These two gorgeous furry babies have just been returned to us due to a job loss and move by their human. They were born on August 13th.
Their former human wrote the following:
Coco and Bullet are good tempered, playful and fairly obedient pups. They are crate trained and house trained but not ready to be left alone while you're out. They are both fairly quiet and will attempt go to the door and pace when they need to use the bathroom but do not whine or bark so a watchful eye is still needed. Both know the basics of stay, sit, down, come and seem to learn most tricks within an hour and a little daily practice… especially with tiny bit of bacon or banana. Bullet uses hand signals for most things as he doesn't hear much if any. They know when it's food n drink time they must sit and be given the ok before touching the food. They are both very stubborn when they just don't want to learn lol. My employment and living situation has changed and I'm no longer able to keep them and give them the attention and freedom they deserve.
Female $1200 and the male is Sold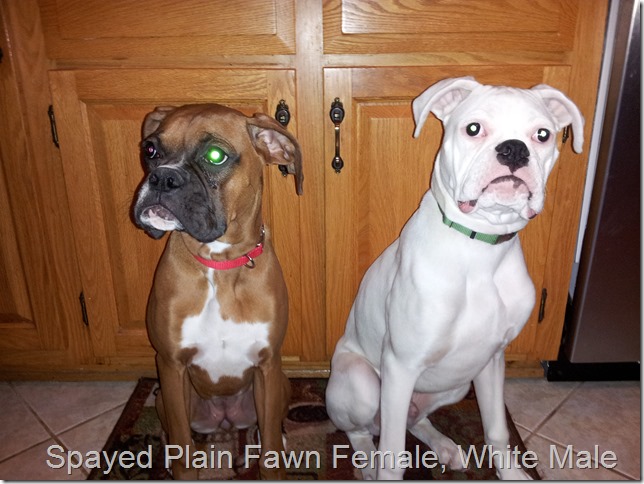 CH Winfall's Tectonic Slip X Zarah's Evangeline Treasure
born August 15th, 2013
Jemima ~ Flashy Female ~ $2200
All puppies are sold on a non-breeding contract. Breeding rights can be purchased by approved breeders. Puppies can be picked up near Sydney, NS, or we can arrange for shipping or delivery. Cash, Credit cards or paypal accepted. Puppies include:
tails docked and dewclaws removed
6 weeks free vet insurance
2 year replacement health guarantee if your puppy develops certain life threatening or debilitating diseases of the heart, hip and thyroid.
Lifetime breeder support
Canadian Kennel Club registration
an identification microchip inserted and registered
first shots